Western style - a tuxedo
So the big day has arrived!! Your carefree days of being the eligible bachelor are no more. It's now times for you to start behaving as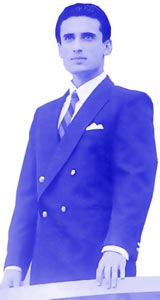 gentlemanly as possible, assume responsibilities and shed the face of your bachelorhood!

There are many qualities that decide the personality of a man - what you wear is just one of them. Dressing up has been of importance since the days of the Emperor's new clothes. So oughtn't u gear up for what is going to be the most important day of your life ?

Okay so you've decided to go in for formal wear a.k.a the western style - a tuxedo. A wide variety greets you at the outset. Your best choice for the occasion would be a full-sleeved shirt with button ups, the option of a tie, a coat and trousers to match.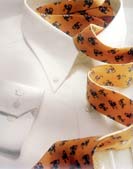 First as we decide on the shirt, the material of the shirt is left to your discretion based on the climatic conditions, preferably cotton.! A plain light coloured shirt would best suit the overcoat. White, Grey, Cream.. etc. No flashy colours or designs, please. You don't want to look incongruous at your own reception.

The Allen Solly Friday dressing, Van Heusen and the Louis Phillipe collection and Zodiac offer a multitude of choices for those expensive tastes.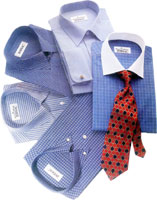 Next, most importantly comes the colour of your coat - preferably a dark shade of black or blue. Grey assumes exciting hues in stone, slate & charcoal grey with plain or mild checks. There is the choice of going in for the Tweed or the Polyester variety, which is basically a soft Merino-wool blend. Lightweight wool fabrics are recommended for summer. The straight jacketed 2-button single breasted and 4-button double-breasted are no longer the only options. For those taller and lean physiques there is the 3-button suit or a double-breasted jacket in six or eight button combinations.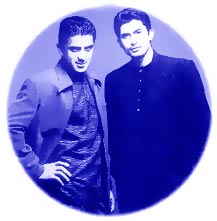 Button them or leave them open -the decision is yours. Park Avenue, Zodiac or Louis Phillip are some of the recommended finer varieties. The Renaissance collection from Raymond fabrics has gentle but striking hues. Try them on for that suave look!

Trousers that match are the next in line. The fashion now is towards parallels in straight cuts, two deep pleats and a high waist. Get the perfect shades and size for your comfort. Get a waist belt again black or brown preferable, not too wide with a small not too conspicuous buckle. Ensure that it gives a snug fit without having to wrap it two times over.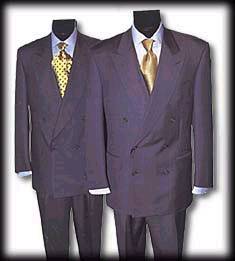 A matching double-knotted tie to go with your outfit is essential. No bright colours or caricatures, subdued stripes or plain shades will do the trick. Couple your apparel now with your choice of comfortable formal leather shoes and matching socks. A clean handkerchief in your trouser pocket could prove useful. Other accessories like cuff links, optional adornments like bracelets, chains or rings complete the outfit. Accentuate your looks with a little make up and add a dash of Brut for that whiff of masculinity.

And now our suede handsome groom is ready to face the world !!